Centralized Global Economy
The Book of Revelation foretells the rising of a tremendously powerful,
persuasive and poisonous personality who will lead much of the western world...
From what is predicted about him, it is likely that his power base will be a confederation of European nations. Most teachers of end-times prophecy believe that he will emerge as the president or leader of the EU, (European Union). In biblical language, he is referred to as the "Antichrist", because he will come to stand for everything that is opposed to Christ and to Christian believers.
Among the more dramatic developments that this charismatic leader will bring about is a centralized global economy that he will bring into his control. One of the first steps in this direction would logically be the institution of a single global currency to replace the national currencies such as the dollar and the yen that have been the standards for international trade over the last number of decades.
The Euro is one unsettling example, but now in 2009, due to the global recession and the decline of the dollar, Russia, China and even the United Nations have called for the establishment of an international currency of the kind that the world has never seen before! This article below is just one example of the recent trend...
Medvedev Unveils "World Currency" Coin At G8
Russian President shows reporters example of
"united future world currency"
by Paul Joseph Watson ... July 11, 2009
http://www.globalresearch.ca/index.php?context=va&aid=14326
"In a highly symbolic moment at the G8 summit in Italy today, Russian President Dmitry Medvedev unveiled to reporters a coin representing a 'united future world currency'."
Medvedev explained that the coin had been minted in Belgium and bears the words "unity in diversity". AnRIA Novosti reportnoted that the coin represented an example of a 'possible global currency'."
Here is one more recent article forshadowing events to come...
"The scandal-ridden and highly secretive Bank For International Settlements, considered to be the world's top central banking power hub, released a policy paper in 2006 that called for the end of national currencies in favor of a global model of currency formats."
http://www.prisonplanet.com/articles/february2006/210206globalcurrency.htm
(The quotations above were excerpted from a website belonging to a non-Christian organization, The Centre for Research on Globalisation (CRG). The CRG is an independent research organization and media group of writers, scholars, journalists and activists based in Montreal, Canada.)
Shockingly, many prominent Protestant teachers of bible prophecy teach that it is the Roman Catholic Church that the bible predicts will become a partner in the power-base of the antichrist. That is why this next article raises eyebrows...
Pope Benedict Urges Bold World Economic Reform
Before G-8 Summit
http://blogs.reuters.com/faithworld/2009/07/07/pope-urges-bold-world-economic-reform-before-g8-summit/
"Pope Benedict issued an ambitious call to reform the way the world works on Tuesday shortly before its most powerful leaders meet at the G8 summit in Italy. His latest encyclical, entitled "Charity in Truth," presents a long list of steps he thinks are needed to overcome the financial crisis and shift economic activity from the profit motive to a goal of solidarity of all people."
"There is urgent need of a true world political authority... to manage the global economy; to revive economies hit by the crisis; to avoid any deterioration of the present crisis and the greater imbalances that would result; to bring about integral and timely disarmament, food security and peace; to guarantee the protection of the environment and to regulate migration... such an authority would need to be universally recognized and to be vested with the effective power to ensure security for all, regard for justice, and respect for rights."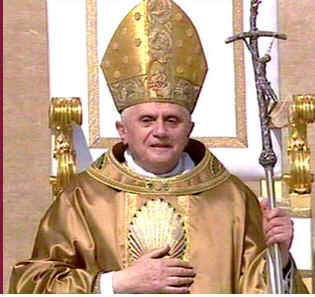 Pope Benedict, leader of the Roman Catholic Church
The Antichrist and his world governing organization will create an international economy and enforce a system of control over the way that all sales and purchases can be made. The Book of Revelation prophesies this about him...
He also forced everyone, small and great, rich and poor, free and slave, to receive a mark on his right hand or on his forehead, so that no one could buy or sell unless he had the mark, which is the name of the beast or the number of his name.
Revelation 13:16,17
The advances of modern technology
have now made possible such control
Credit Card Chips Embedded into the Human Body
http://www.eucommerz.com/index.php?/article/0112_credit_card_chips_embedded_human_body/206/
(Quotations excerpted below are taken from an article authored by Marina Ricci.
It appeared in March of 2009 on the EU website, "EUCOMMERZ")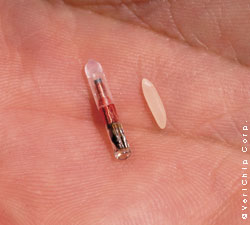 The implanted RFID chips are as small as a ricecorn.
RFID chips have been implanted into humans in the U.S. ever since the FDA approved the procedure four years ago, but only now has it become a growing trend with significant benefits. The chip's ability to identify individuals in medical traumas and pinpoint allergies and detail medical history could prove to be a life-saving tool that could increase survival rates.
The half-inch chip can be implanted in a doctor's office with a syringe under local anesthesia. Side effects don't seem to be an issue and the chip itself is able to withstand strenuous physical activity in the body and can last up to 10 years without replacement. Before implantation the chip is coded with the individual's personal information, including the allergies and prior treatments. Once scanned, the information would appear and provide the physician with the information needed for successful and efficient treatment.
Internationally, in Mexico City, Mexico, workers at the organized crime division of Mexico's Attorney General wear the chips for top security reasons. In Barcelona, Spain, and Rotterdam, the Netherlands, the atmosphere is a little lighter concerning the chips as they allow people to avoid long lines to enter exclusive clubs and even use them to pay for their drinks.
Where's Jimmy? Just Google His Bar Code
By Gene J. Koprowski ... FOXNews.com - Updated May 14, 2010
"Scientists tag animals to monitor their behavior and keep track of endangered species. Now some futurists are asking whether all of mankind should be tagged too. Looking for a loved one? Just Google his microchip."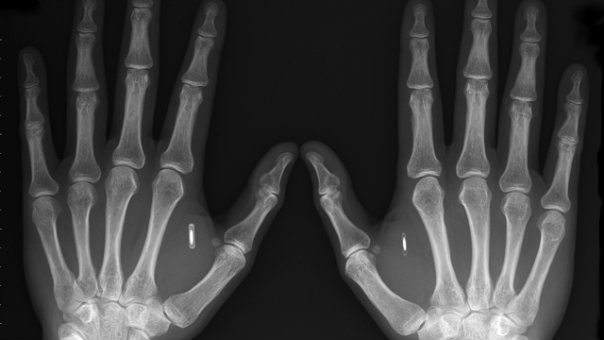 http://www.foxnews.com/scitech/2010/05/14/radio-frequency-rfid-implant/?test=faces
Conclusion...As these news events and trends indicate, the stage is being set right before our eyes for the fulfillment of ancient biblical prophecies in the near future that will affect us all. The most important question is not if these things will happen or even when, but rather, what will you decide to do when they occur...
Then a third angel followed them, shouting, "Anyone who worships the beast and his statue or who accepts his mark on the forehead or the hand must drink the wine of God's wrath...
Revelation 14:9, 10a
Pages for further study on this topic...
http://www.raptureready.com/rap16.html
http://prophecytoday.com/news/archive/2009_03_24_archive.php
http://en.wikipedia.org/wiki/VeriChip
http://www.tangle.com/view_video?viewkey=912fe257294ccc86c20a